---
About Us
In India- Art has always been considered as a hobby or a co-curricular activity and the age-old belief is that it is meant for those few who draw well. But art is about observation, cognition, concentration and so much more. You would be surprised to know that "Art and design improve perception and integration skills, it helps us to think out of the box and to innovate. Visual Learning is extremely effective and long-lasting. In a digital world — where animation and live-action stories are exploding, art, craft, design and visual literacy are the need of the next generation.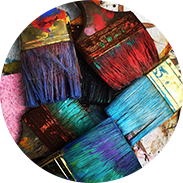 We at The Living Walls, a leading Art & Craft brand understand the most common concern of every Indian parent - "Can we move from screens to creativity?"
Today we are technologically strong but most of us lack the basic creativity, innovative thinking, and visual expression. Art & craft is an excellent solution to bridge this gap as it improves observation, concentration, perception and integration skills, it helps us to think out of the box and to innovate. We have seen significant improvement in children in their academics and studies, who are engaged in art & craft. We believe in making art & craft- accessible & affordable for all. We provide a platform for art teachers/ artists, to teach art from the comfort of their home through classes & workshops through The Living Walls studios. We manage creative events for corporate and we also make unique, customized handmade art & craft products. We also provide art therapy sessions from our expert art therapist.
Art Classes & Workshops:
We conduct art classes & workshops for corporate and retail customers across India. ..... be it drawing and sketching, acrylic/ oil painting, watercolor or palette knife painting, clay art or decoupage and many more. Not just these, we also promote traditional/tribal art forms like Madhubani, Warli, Gond and Tanjore art forms, etc. Art classes and workshops are specially designed for children and adults. We also provide Art therapy session from expert art therapists.
Handmade Paintings/Crafts:
We make handmade & customized art products as per your wish – Customized Paintings, Decoupage, decorative, wall accessories or murals – We make your imaginations come true.
Creative Event Management:
We manage creative events like craft carnivals, paint parties, art picnics, employee engagement, art theme birthday parties/ family gatherings, etc at your home/company or institutions.
Ask any Questions about Art & Craft